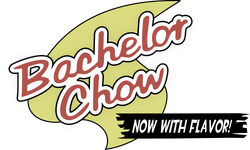 Bachelor Chow is a cheap type of food in the future packaged similarly to dog food, and targetted at young single men. It is advertised on television, billboards, and magazines, and Fry eats it on a regular basis.
The newest version has 'flavor'.
BachelorBars
Bachelor Bars are a form of Bachelor Chow in a bar.
Appearances