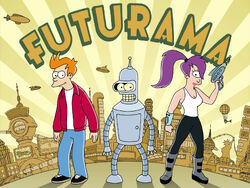 Futurama is an American adult animated science fiction sitcom series created by Matt Groening, and was developed for television by Matt Groening and David X. Cohen. It focuses on the lives of delivery boy named Fry, captain Leela, and Bender in the futuristic 31st century.
At the final second of New Year's Eve 1999, Fry falls into a cryogenic tube, and is frozen for 1000 years, being released on December 31st, 2999.
In the United States, it ran on Fox in 1999 and continued until 2013. In the United Kingdom, it ran on BBC Two from 2001 until 2015 and then later on Sky1. It also aired a British dub, Fry (Richard Orrington), Leela (Dawn Gosber), Bender (Timothy Richardson), and Amy (Joanne Ruiz). Sadly, the dub cannot be found anywhere on the internet. However there is an upcoming video in 2021, with the English voice actors.[citation needed]
Original Voice Actors:
Running
Original Run
The original run of Futurama began on March 28th 1999 with Space Pilot 3000. The show ran for four seasons, before FOX decided to drop the show. The final episode of the original run was released December 12th 2004 with The Devil's Hands Are Idle Playthings. In the episode, Leela says "I want to see how it ends." making this the last thing spoken in the original series.
DVD Movie Comeback
On April 26, 2006, Groening stated that numerous people, including Cohen and many writers and actors were returning to make 4 DVD Movies. These started with Bender's Big Score and ended with Into the Wild Green Yonder. They were released on TV as four part episodes. In Bender's Big Score, Hermes declared that the executives who dropped the company's contract have since been fired and ground into a fine pink powder. The DVD are classed as Season Five. The DVDs proved to be successful, so Comedy Central declared a new series was to be made with 26 new episodes over two broadcast seasons, beginning with Season Six. On the official Futurama web site (http://www.comedycentral.com/shows/futurama/index.jhtml), it premiered on June 24, 2010.
Revival on Comedy Central
Once the last DVD movie ended, season six later would have been announced to air on the Comedy Central channel. Season 6A started on June 24, 2010 and continued throughout the summer with its Christmas special being its latest episode. Season 6B returned 2011. In 2012, Select ABC and other local channels acquired the rights to broadcast Futurama on Monday mornings. But after the episode The Devil's Hands Are Idle Playthings it skips ahead to Rebirth, and Comedy Central renewed the show for a seventh season. Season 7A aired in 2012 and 7B aired in 2013. Season 7B was the last season and the final episode aired on September 4, 2013, although Matt Groening said that he would try to get it picked up by another network.
Revival on Hulu
Futurama is set for a revival of a 20 episode 8th season on Hulu & Disney+ Star in the year 2023.[1]
Main Characters
See Also
References