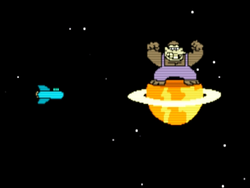 "Space. It seems to go on and on forever. But then you get to the end and a gorilla starts throwing barrels at you."
―Fry
Monkey Fracas Jr. is a science-fiction-themed arcade game. The gameplay revolves around a two-dimensional spaceship side-scrolling through space, whilst avoiding Saturn-like objects. At least one boss battle was fought against a barrel-throwing gorilla, very much like Donkey Kong.
A Monkey Fracas Jr. stall was present at Panucci's Pizza, where it was played by [[Philip J. Fry I Fry]] in on December 31, 1999 at 11:36 p.m. The stall controls include one joystick and two orange buttons. Images of space, including stars and planets, are printed on the side of the stall, with the words Monkey Fracas Jr. in brown letters in green above the screen. He makes a cameo in "A Bicyclops Built for Two". He is among those Fry shoots during the Death Factory III game.
Behind the scenes
Monkey Fracas Jr. is a reference to Donkey Kong Jr., a 1982 arcade game by Nintendo. A downloadable Windows-compatible version of the game is available at the fansite Can't get enough Futurama.
Appearances
Community content is available under
CC-BY-SA
unless otherwise noted.