Mr. Astor is a male human (later mutant) married to Mrs. Astor.
On April 10, 2912, he went on a cruise with his wife on the Land Titanic. Unfortunately, the ship sank. Mrs. Astor thought she lost him, but would later discover he had actually been safe the whole time.
Mr. Astor wrote Mrs. Astor a message in a priceless Quantum Gemerald, which was later discovered by Professor Farnsworth, Amy, Hermes, and Zoidberg, along with the Land Titanic's original passenger manifest.
Munda's mother explained that Mr. Astor saved her life and her mother's by giving them his place in a life car. His act of generosity caused him to land-drown and be completely altered in the NNY Sewers.
When Leela and mutated Fry kissed by the struggle's end, his mutation strangely came off. The mutation said its name was Mr. Astor. It turned out he did not perish that fateful day, but rather plummeted into the toxic lake, where he mutated and leaped into solitude until Fry stepped into his mouth and lodged there. Mrs. Astor acknowledged her husband and hugged him. They were reunited.
Mr. Astor is a reference to Colonel John Jacob Astor IV (July 13, 1864 – April 15, 1912), an American businessman who died in the sinking of the RMS Titanic in 1912. Astor was the passenger man aboard.
Appearances
Edit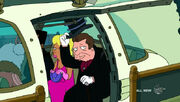 Community content is available under
CC-BY-SA
unless otherwise noted.