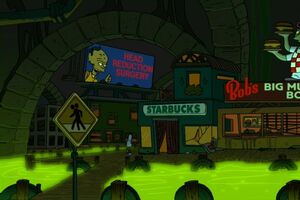 The Mutants are a race from Earth that evolved from Humans. They live in the ruins of Sewers of New New York and were shunned by the aboveground New New Yorkers and were forced to spend their lives underground until they gained surface rights in 3010.[1]
The mutants were mainly scavengers, relying heavily on the things the New New Yorkers flush down the toilet. They were led by Mayor Raoul.
They had a well established city, with a seemingly vibrant economy as evidenced by the existence of stores and restaurants reminiscent of 20th century corporate chains. They had quite a few young people in the city and the local teacher was Dwayne. Unfortunately the school was destroyed after a motorized sewer race between Leela and Moose went out of control.
In the sixth series episode "The Mutants Are Revolting", with the help of Bender, Fry and Leela, the mutants revolt and obtain freedom in New New York.
The mutants worshiped a large unexploded nuclear missile, however:
"
Nobody's that observant, it's mainly a Christmas and Easter thing.
"
The following mutants have been identified in this show:
Community content is available under
CC-BY-SA
unless otherwise noted.