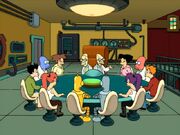 The Planet Express crew is the crew of the Planet Express company. Turanga Leela, Philip J. Fry, and Bender Bending Rodríguez are the ones who usually go out on deliveries, occasionally accompanied by the other members. As many as five (5) crews are referenced in various episodes.
#5 - Captain Turanga Leela: Leads current crew in show.
#4 - Unknown Captain: Led crew killed by space wasp. In episode 1 premiere Professor Farnsworth empties a large manilla envelope labeled "Contents of Space Wasp's Stomach" pouring out the career chips that are implanted into the hands of current crew, #5.
#3 - Captain Lando Tucker: Led crew eaten by space whale, Mobius Dick, including Candy and Lifter (Robot).
#2 - Unknown Captain: Led unnamed crew killed by giant space bees.
#1 - Captain Musky: Led unnamed crew. Backstory unknown.
Crew
Current Crew
The Delivery Crew
Office Management
Other Crew Members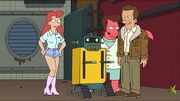 Past Crew
The Delivery Crew
Office Management
Other Crew Members