The President of the United States was the head of government for the United States. The office of President of Earth was descended from the United States presidency.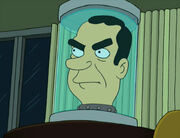 List of Presidents of the United States
[
edit
|
edit source
]
John Adams
James Madison
James Monroe
John Quincy Adams
Andrew Jackson
Martin Van Buren
William Henry Harrison
John Tyler
James K. Polk
Zachary Taylor
Millard Fillmore
Franklin Pierce
James Buchanan
Andrew Johnson
Ulysses S. Grant
Rutherford B. Hayes
James A. Garfield
Grover Cleveland (2 non-consecutive terms)
Benjamin Harrison
William McKinley
William Howard Taft
Woodrow Wilson
Calvin Coolidge
Herbert Hoover
Franklin D. Roosevelt
Dwight D. Eisenhower
John F. Kennedy
Lyndon B. Johnson
George W. Bush
Barack Obama
Joe Biden
Community content is available under
CC-BY-SA
unless otherwise noted.