Robotology
is a
religion
led by the
Reverend Lionel Preacherbot
and was known to have had many customs.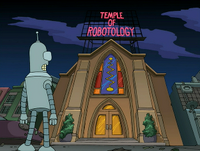 Sinners were collected by the
Robot Devil
so as to spend eternity in
Robot Hell
, which was located in New Jersey. The religious text of Robotology was
The Good Book 3.0
.
Bender's son Ben celebrated his Bot-Mitzvah at the Temple. It appears to borrow much from Abrahamic religion, especially Christianity.
Appearances
Edit
Community content is available under
CC-BY-SA
unless otherwise noted.