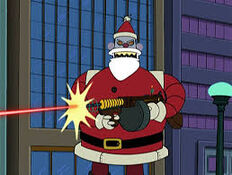 Santa Claus is Gunning You Down, a parody of Santa Claus is Coming to Town, all 7 main characters.
Amy:He knows when you are sleeping,
Farnsworth: He knows when you're on the can,
Leela: He'll hunt you down and blast your ass from here to Pakistan.
Zoidberg: Oh...
Hermes: You'd better not breathe, you'd better not move,
Bender: You're better off dead, I'm telling you, dude.
Fry: Santa Claus is gunning you down!
Appearances
Edit
Community content is available under
CC-BY-SA
unless otherwise noted.