Allusions
Doping
The whole episode is a reference to sports athletes and doping abuse. It could be a reference to the fact that many female athletes had strongly abused doping over the years, to the point of becoming masculine, having gotten deeper voices and more masculine features.
The Butterfly Effect
The name of the episode, "The Butterjunk Effect", is a reference to the 2004 American science fiction psychological thriller, The Butterfly Effect. They both reference the scientific term.
Elf 17
The outfits worn in the Butterfly Derby are a reference to the 1984 manga, Elf 17. The opening chapter features the protagonist participating in a martial arts tournaments, wearing a leotard and spawning pink butterfly wings.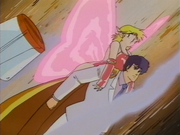 Trivia