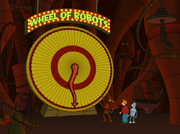 The Wheel of Robots is a big wheel, located in Robot Hell, that has written upon it the name of every robot on Earth. The Robot Devil uses it to choose which robot will lose their hands to Fry. Bender's name is right next to the Robot Devil's name.
Appearances
Edit
The Wheel of Robots lists several robot names from several different episodes.  Once the wheel is zoomed in, you can view this list of robot names:
Billionarebot
Flexo
Daisy Mae 128k
Crushinator
Roberto
Helper
Kwanzabot
Robot 1-X
Clamps
Hedonismbot
Fatbot
Linctron
Destructor
Santa
Joey
Tinny Tim
Chain Smoker
Angleyne
Execu-tor
Precherbot
Fembot
Hair Robot
Unit 2013
Donbot
Boxy
Lulubelle 7
Humorbot 5.0
Calculon
URL
Foreigner
iZac
Cartridge Unit
Barkerbot
Teenbot
Gearshift
Q.T. McWhiskers
Deep Blue
iHawk
Cylon
Patchcord Adams
Liubot
Stage Mom 7.0
Sinclair 2K
Vending Machine
Oily
Coolometer
Andrew
Monique
Rab-bot
Lisa
Executive Gamma
Keg Robot
Greeting Card
Eurotrash 80
Nannybot 1.0
Emotitron, Jr.
Ceiling Fan
Hookerbot
Bender
Robot Devil
Other robot names not listed on the wheel are:
Robo-Puppy
Executive Alpha
Executive Beta

Despite living on Neptune, Santa appears on the wheel.
Despite Executive Gamma being on the wheel,his counterparts Executive Alpha and Beta,do not appear on the wheel.
Community content is available under
CC-BY-SA
unless otherwise noted.